2020 Lectures on Urban Economics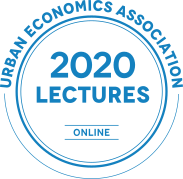 The 2020 Lectures on Urban Economics, organized by the Urban Economics Association, is entirely online and open to the public. The series has some amazing speakers, including Edward Glaeser (Harvard), Gilles Duranton (Wharton), Vernon Henderson (LSE), Dave Donaldson (MIT), Veronica Guerrieri (Chicago Booth) as well as Leah Boustan, Esteban Rossi-Hansberg and Stephen Redding from Princeton.
The series started today with a presentation by Edward Glaeser giving an introductory overview of a few core concepts and models of spatial equilibrium. In case you missed his presentation, you can watch it on YouTube. I might have to watch it again now that I can set the speed to 0.75The man talks quite fast.
You might also like to join the Online Spatial & Urban Seminar, co-organized by Clare Balboni, Fabian Eckert, Caitlin Gorback, and Chris Severen.